Eric Fisher Academy: Hair, Makeup & Fashion
Eric Fisher Academy is an award winning, state of the art cosmetology school in Wichita, Kansas. I have the privilege and honor to be a guest educator there about every ten weeks to teach Aquage classes and makeup classes.
When I go to EFA, one of the highlights for me is walking in the front doors and into the incredible boutique. Every time I am there, the floor is completely redone with a new color... the merchandising, the clothing, jewelry, purses, housing decor... down to the price tag on each item. So beautiful and inspirational. This time, everything was done in blacks & whites.
TIP: When shopping, pick a common theme or color to keep on track to create the perfect outfit and/or the perfect accessory collection.
Each day is started with a meeting with all the staff and students. Here they are bringing in the day with Musical Chairs!
The first style in our updo class. Ribbon curls and undulated curls created with Working Spray and a flat iron. Low chignon created with a three strand braid, tuck, wrap and separate technique while using Detailing Creme and Finishing Spray. (Easier to do than write!)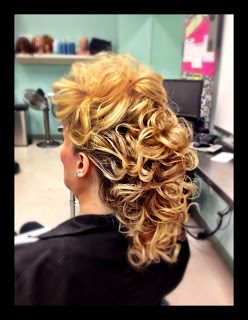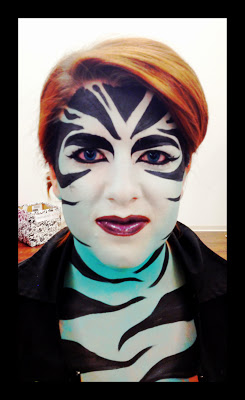 We focused on face/body paint for the makeup demos today. Both looks created Paradise Paint by Mehron. Second look also created with MAC (for the lips).
And I'll leave you with this:
"Do more of what makes you happy."